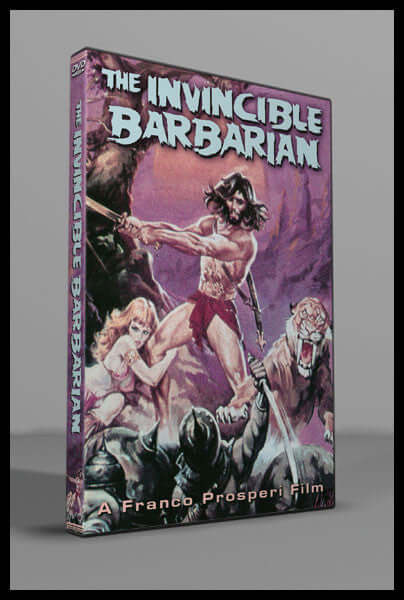 Invincible Barbarian, The (1982)
     A peaceful countryside village is assaulted by a wild tribe, led by an evil blood-thirsty tyrant. Although they lay waste to the village, two baby boys are miraculously saved by a tribe of Amazon warriors.
     The warriors train the two boys for future struggles. The stronger of the two is named "Gunan the Invincible" and it is his fate to avenge the annihilation of his people. Gunan stages a spectacular one-man war against the the evil marauders, but they prove a formidable adversary that won't go down without an epic battle.
     Franco Prosperi directs this barbarian adventure with Pietro Torrisi and Sabrina Siani who teamed up with him again for "The Throne of Fire" and also starred in "The Sword of the Barbarians" together. In the spirit or recycling, the first 10 minutes describes evolution and ancient prophecy uses footage stolen right from Hammer Studios' 1966 film "One Million Years B.C.".
92 minutes

STANDARD FORMAT

English audio soundtrack

DVD is NTSC format, Region 0 (region free) playable world wide
Also known as:

 
Gunan il guerriero, Gunan, King of the Barbarians, 
Directed by Franco Prosperi
Starring: Pietro Torrisi, Malisa  Longo, Giovanni Cianfriglia, Emilio Messino, Rita Silva, Fortunato Arena, and Sabrina Siani