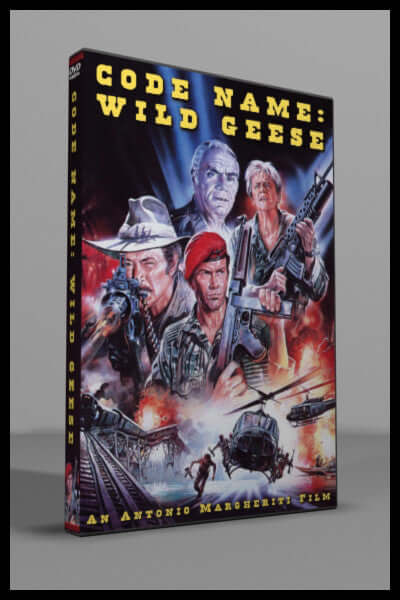 Code Name: Wild Geese (1984)
     A top-notch mercenary is called in by his employer to destroy an opium factory run by a ruthless warlord. Unfortunately, before the mission even gets off the ground they lose their helicopter pilot.  After striking a bargain with authorities, they get permission to release an expert chopper pilot that has flown in five wars but wound up in prison for smuggling.

     As the battle ensues on the opium factory the helicopter pilot leaves his post to help the mercenaries and the helicopter ends up getting blown up. The team must now somehow get out alive but the livid warlord sends an army out to track them down for death. More adventure for the team lies ahead as they  journey through the jungle discovering more secrets and meeting with interesting characters.

     Shot on location in Hong Kong and the lush jungles of the Philippines, Antonio Margheriti returns with another explosive, action-packed, military action flick with the all-star cast of Lewis Collins, Lee Van Cleef, Ernest Borgnine, Klaus Kinski and Mimsy Farmer.
84 minutes

WIDESCREEN VERSION (non-anamorphic)

English audio sound with non-removable Japanese subtitles

DVD is NTSC format, Region 0 (region free) playable world wide
Also known as:
Geheimcode Wildgänse, Arcobaleno selvaggio
Directed by 

Antonio Margheriti
Starring:
Lewis Collins, Lee Van Cleef, Ernest Borgnine, Klaus Kinski, Manfred Lehmann, Mimsy Farmer,  Thomas Danneberg and Frank Glaubrecht