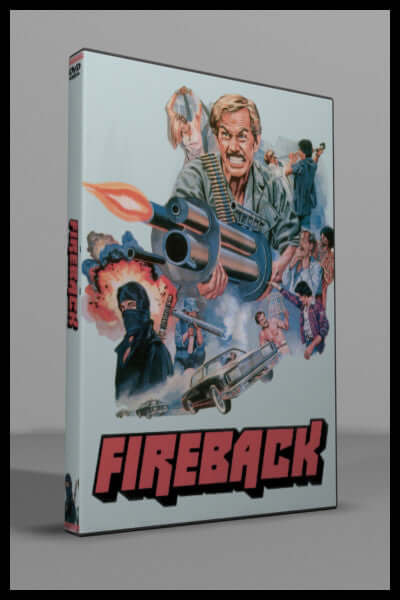 Fireback (1983)
     An American colonel stationed in Vietnam is showing off a new multi barrel gun when the Viet Cong attack during the demonstration and take him prisoner. When he is liberated from the prison camp and finally taken home, the colonel finds that his wife has been abducted and he's being set up for a variety of crimes.
     Hellbent on finding his lost love, the colonel jumps into to action and starts beating the hell out of various sleaze bags who may or may not hold any relevant information as to her whereabouts. The body count climbs as he hunts for answers, and now the police are eager to apprehend who they believe to be possible unhinged psycho. The colonel eventually bust out his ninja gear to infiltrates the mansion of the man behind the kidnapping and proceeds to deal out some well deserved violent justice.
     Richard Harrison (Scorpion Thunderbolt) stars as the colonel and Godfrey Ho regular Bruce Baron also shows up in this low-budget Filipino production directed by Teddy Page (Phantom Soldiers). With its atrocious dubbing, nonsensical plot, and insane music, there is a laugh a minute for fans of the genre that can enjoy its reprehensible cinematic qualities.
89 minutes

STANDARD FORMAT

English audio sound with non-removable Japanese subtitles

DVD is NTSC format, Region 0 (region free) playable world wide
Also known as:
Vengeance! Commando of Fire
Directed by Teddy Page
Starring: Richard Harrison, Bruce Baron, Gwendolyn Hung, Ann Milhench, Jim Gaines, Ruel Vernal, and Mike Monty