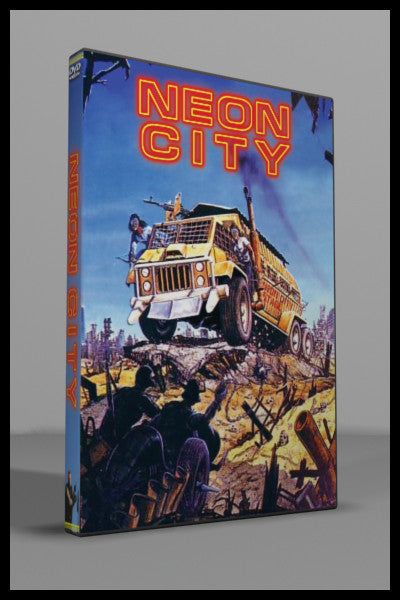 Neon City (1991)
     It is the year 2053, earth has been devastated by a military experiment gone awry and the inhabitants have been divided into diseased mutants and healthy people. With the ozone layer now gone, radioactive clouds drift across the plains, and unpredictable, intense bursts of ultra-violet sunlight incinerate anyone caught outside.
     A bounty hunter has to transport a tough lady outlaw from the frontier town of Jericho to the paradise safe haven of Neon City. Along with six civilians who are totally unprepared for the dangerous journey, the bounty hunter and his prisoner board an armored transport vehicle driven by an ex-con. To get to the city they will all be forced to battle for their lives as they pass though radioactive clouds, unstable paved roads, and nomadic motorcycle riders who kill anyone venturing though their territory.
     This entertaining post-apocalyptic romp has a great B-movie cast including Michael Ironside (Scanners), Vanity (The Last Dragon), and former NFL defensive linesman, the late great Lyle Alzado. The Hughes Brothers must have taken a look at this film at some point as it has some similarities to their film, The Book of Eli.
99 minutes

STANDARD FORMAT

English audio soundtrack

DVD is NTSC format, Region 0 (region free) playable world wide
Directed by Monte Markham
Starring: Michael Ironside, Vanity, Lyle Alzado, Valerie Wildman, Nick Klar, Juliet Landau, Arsenio Trinidad, and Richard Sanders