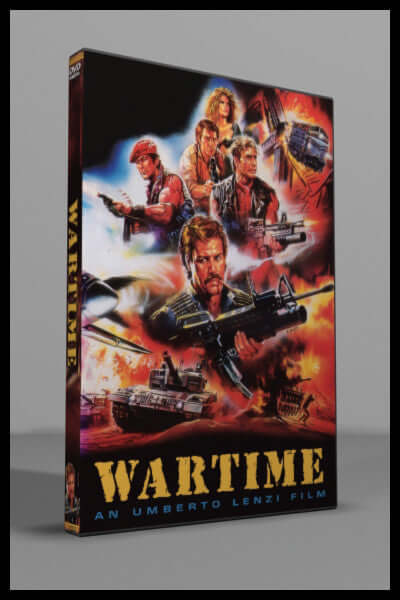 Wartime (1987)
     Its World War II in eastern Europe and the Nazis have succeeded in capturing a Swedish scientist. Their plan is to force the scientist to create weapons of mass-destruction so they can cause some serious casualties on the allies.
     It up to a group of local rebels to free the important prisoner from the Nazis before they run out of time. To help them with the mission, they enlist the aid of a couple of American pilots. Together the team battle their way through the war torn landscape, dodging bombs, bullets and shrapnel the Nazis continually unleash.
     This rare Umberto Lenzi war movie is an explosion filled journey that features a rad synth score by Fabio Frizzi and stars Inglorious Bastard's Peter Hooten as one of the American pilots.
92 minutes

STANDARD FORMAT

English audio sound with non-removable Japanese subtitles

DVD is NTSC format, Region 0 (region free) playable world wide
Also known as: Tempi di guerra
Directed by Umberto Lenzi
Starring: 
Peter Hooten, Werner Pocath, Giacomo Rossi-Stuart, Maurizio Schmidt, Boris Dvornik, Ljijana Blogojevic, Igor Galo, and Rade Colovic