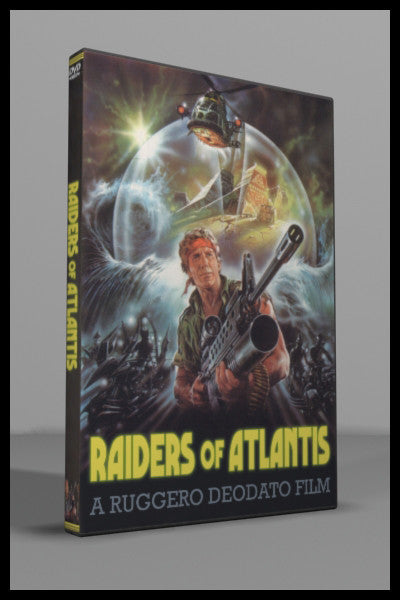 Raiders of Atlantis (1983)
When a team of scientists attempt to raise a sunken Russian submarine, a powerful disturbance rocks the Caribbean and from the crystal depths rises the ancient lost continent of Atlantis.

     Stranded by the powerful maelstrom created by the continent's mysterious reappearance, the group of survivors set foot on the island's forbidden shores. There, the daring raiders engage in deadly combat with savage Atlanteans that are armed with and arsenal of deadly pitfalls, traps, and a array of atomic weapons trained on the capitals of the world!

     Ruggero (Cannibal Holocaust) Deodato directs this amazing action adventure that stars Christopher Connelly, Ivan Rassimov (Eaten Alive) and the director of Dellamorte Dellamore, Michele Soavi.
98 minutes

STANDARD FORMAT

English audio soundtrack

DVD is NTSC format, Region 0 (region free) playable world wide
Also known as:
I predatori di Atlantide, The Atlantis Interceptors
Directed by Ruggero Deodato
Starring:
Christopher Connelly, Tony King, Gioia Scola, George Hilton, Ivan Rassimov, Mike Killer, Bruce Baron, Giancarlo Prati, Michele Soavi, Maurizio Fardo, Mike Monty, John Vasallo and Lewis E. Cianelli