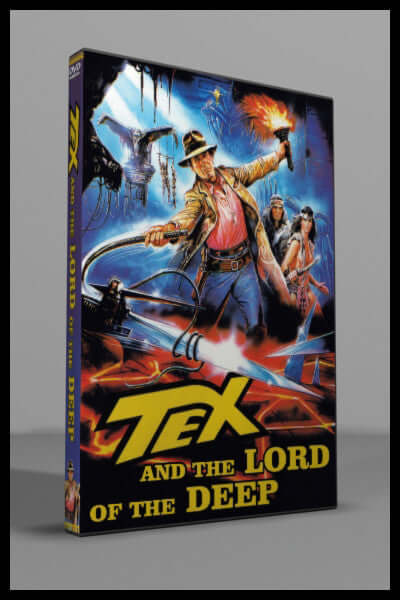 Tex and the Lord of the Deep (1985)
     Tex Willer, a Texas Ranger living with the Navajos, is assigned with his trusty partner Kit Carson to investigate an army convoy robbery of 300 guns stolen during transport. Mexican bandits are suspected first, but when they find a mummified corpse of one of the convoy guards, they soon realize that the mysterious culprits are not your average trouble makers.
     Further investigation reveals that the stone like mummified corpses are the result of a secret Indian weapon harbored by a mystical Indian tribe. The tribe is planning an all out war on the whites and it's up to Tex, Kit, and their Indian friend to put a stop to the uprising.
     Giuliano Gemma (A Man to Respect) stars as Tex in this crazy hybrid of spaghetti western/fantasy, based on a popular Italian comic strip. Director Duccio Tessari provides a unique approach by giving special attention to the very eccentric sets of Mexican castles and Indian caves with strange glowing pits. This remains the last western for both Tessari and Gemma, filmed 20 years after their classic collaboration "A Pistol For Ringo".
90 minutes

STANDARD FORMAT

English audio soundtrack

DVD is NTSC format, Region 0 (region free) playable world wide
Also known as:
Tex e il signore degli abissi
Directed by Duccio Tessari
Starring: Giuliano Gemma, William Berger, Carlo Mucari, Isabel Russinova, Peter Berling, Flavio Bucci, Aldo Sambrell, and Riccardo Petrazzi