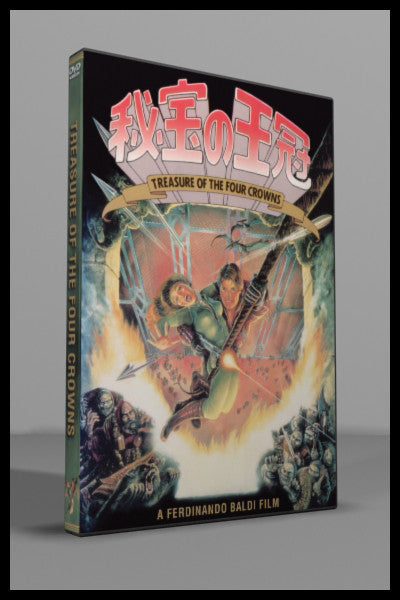 Treasure of the Four Crowns (1983)
A mercenary adventurer is hired to assemble a group of professional thieves and tough commandos to carry out a dangerous mission. To be successful, they must recover four priceless crowns which are said to possess strange mystical powers.
     The crowns are being held inside a heavily guarded compound that is home to the evil cult leader, Brother Jonas. It is anything but an easy journey as cult ninjas, vicious dogs, lethal daggers, giant pythons, and other booby traps are standing between the group and the treasure.
     After igniting the eighties 3D craze a couple years earlier, Ferdinando Baldi (War Bus) makes this Raiders of the Lost Ark inspired cheese fest with most of the shots are aimed at the viewer. Although not in 3D, this rare Japanese print has all the crazy effects and features a cool score by Ennio Morricone.
95 minutes

STANDARD FORMAT

English audio sound with non-removable Japanese subtitles

DVD is NTSC format, Region 0 (region free) playable world wide
Also known as:
El tesoro de las cuatro coronas
Directed by Ferdinando Baldi
Starring:
Tony Anthony, Ana Obregon, Gene Quintano, Jerry Lazarus, Francisco Rabal, Emiliano Redondo, Francisco Villena, and Kate Levan