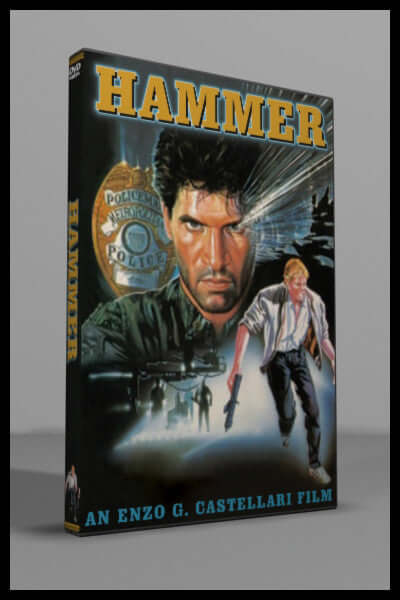 Hammer (1987)
     Hammer (Hands of Steel's Daniel Greene) is a hard as nails mercenary turned detective who doesn't take crap from anyone and seems to only exist to kick ass. When he witnesses the murder of his old friend and fellow crime-fighting partner, Hammer is barred from trying to solve the case because of his volatile nature.
     After blasting up chunks of Miami and causing pedestrian injuries while pursuing a ruthless hitman (Striker's Frank Zagarino), the police chief sends Hammer on a forced vacation which leads him to the island of Jamaica. He is soon tangled in a web of high level corruption with danger at every turn as he sets out to find and punish those responsible for his buddy's murder.
     Enzo G. Castellari, master craftsman of action, writes, directs, and produces this violent, fast-moving flick with some humor and heart added to the mix. Like a greatest hits compilation of his own work, it has the slow motion blood splattering, incredible car stunts and vile behavior from the scumbags that you can't wait for Hammer to flatten.
97 minutes

WIDESCREEN VERSION (non-anamorphic)

English audio sound with non-removable Japanese subtitles

DVD is NTSC format, Region 0 (region free) playable world wide
Also known as: Hammerhead, Cobra Revenger
Directed by Enzo G. Castellari
Starring: Daniel Green, Melonee Rodgers, Jorge Gil, Donna Rosea, Deanna Lund, Frank Zagarino, Nancy Lee, and Tony Hendriks