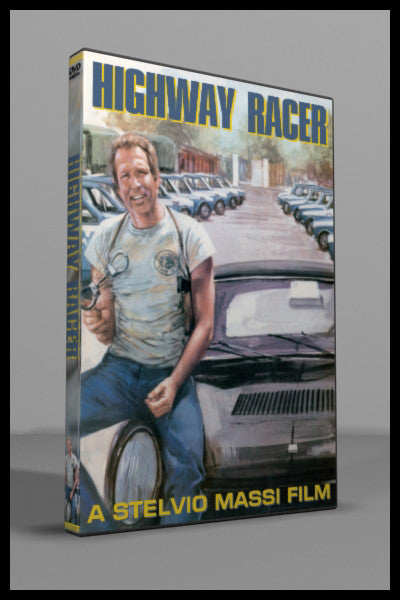 Highway Racer (1980)
     Maurizio Merli plays a slightly psychotic detective named Palmer in this Italian crime action flick directed by frequent contributor of thr genre, Stelvio Massi. Palmer is the police department's best driver, but even he is confused by a string of armed robberies committed by stunt-driving crooks who continually evade their police pursuers with the greatest of ease.
     With the bandits still on the loose, Palmer is kicked off the case after a couple of crackups, one of which causes the death of his partner. It isn't long before he is recruited by his boss again to infiltrate the gang and tip off the department to their next robbery.
     Stelvio Massi stages several exciting car chases and stunts in this one, including a dangerous-looking jump and a collision between a car and pedestrian that looks a little too close for comfort.
101 minutes

WIDESCREEN VERSION (non-anamorphic)

English audio sound with non-removable Japanese subtitles

DVD is NTSC format, Region 0 (region free) playable world wide
Also known as:
Poliziotto sprint, Speed Racer
Directed by Stelvio Massi
Starring: Maurizio Merli, Giancarlo Sbragia, Lilli Carati, Angelo Infanti, Glauco Onorato, Orazio Orlando, Tom Felleghy, and Rosario Borelli