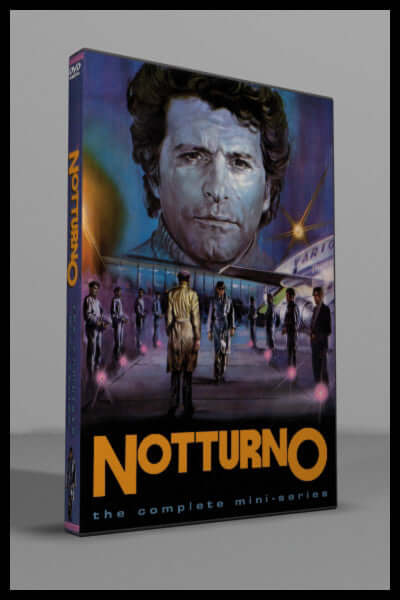 Notturno (1983)
     The CIA (the mighty Maurizio Merli) wants to swap Russians caught during the Cold War with replacement spies during a stop off at the Rome airport. The British have a different agenda in the works though and start it by having one of their thug agents (Endgame's Al Cliver) kidnap the daughter of a black market salesman.

     The salesman  (The Bird with Crystal Plumage's Tony Musante) happens to have expert sharpshooting skills and the ability to see in total darkness.  With his daughter being held captive, he is put in the position of having to snipe out the Russian spy guarded by hundreds of Italian soldiers in order to save her life.

     It has only just begun though as personal vendettas, espionage and revenge form a powerful mix that leave many dead. Fueled with a pulsating score by Goblin and starring many legends of Italian cinema, this thriller a must for fans of the genre.

     At one time a cut and spliced theatrical version of Notturno was released as well as some incoherent butchered video versions cut to save money on videotape.  After discovering some rare Japanese prints, we are pleased to present this spy action epic mini-series in its complete uncut form, clocking in at nearly 8 hours. 
421 minutes (4 DVD set)

STANDARD FORMAT

English audio sound with non-removable Japanese subtitles

DVD is NTSC format, Region 0 (region free) playable world wide
Also known as: Spy Connection
Directed by Giorgio Bontempi
Starring: Tony Musante, Claudio Cassinelli, Omero Antonutti, Fiorenza Marchegiani, Maurizio Merli, West Buchanan, Pino Colizzi and Al Cliver