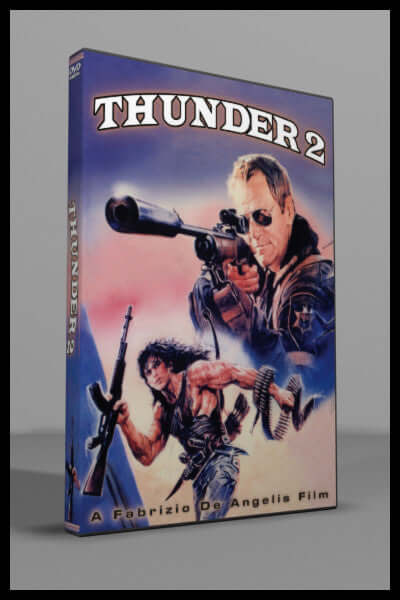 Thunder 2 (1987)
     After trashing the town and eliminating many of its pesky citizens, Thunder is back and has somehow landed a position on the police force. As a sheriff's deputy, Thunder is ready to clean up the drug traffickers who make life hell for the local Indian village.

     But things are not all what they seem to be. On the force is Thunder's old nemesis, a dirty evil cop (Bo Svenson) who's taking bribes to look the other way while the heroin dealers push their dope.

     When Thunder finds himself imprisoned after being framed on murder and drug charges, he knows the only solution is to take things into his own hands.   The wrath of Thunder is again unleashed, and this time he's got explosive arrow heads to blow stuff up real good.
93 minutes

WIDESCREEN VERSION (non-anamorphic)

English audio sound with non-removable Japanese subtitles

DVD is NTSC format, Region 0 (region free) playable world wide
Also known as: Thunder Warrior 2
Directed by Fabrizio De Angelis
Starring:
Mark Gregory, Bo Svenson, Raimund Harmstorf, Karen Reel, William Rice, Vic Roych and Clayton Tevis