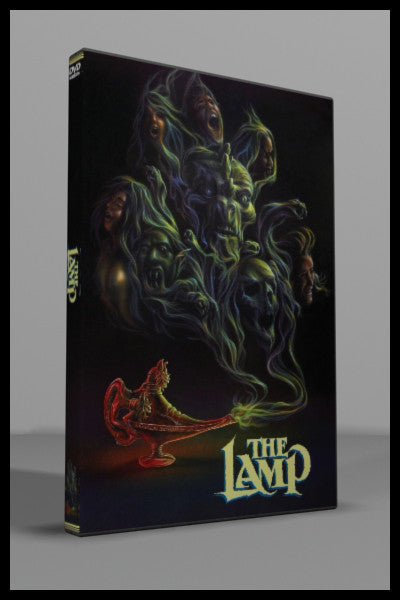 Lamp, The (1987)
     Three hoodlums break into the house of an old woman to rob her of cash, but are disappointed to only find an old lamp with a jeweled stopper in it. The lamp gets rubbed when trying to remove the stopper which unleashes an evil ancient genie that kills the trespassing criminals.
     The police send the lamp to a museum where an archaeologist theorizes that it dates from 3500 b.c. and declares it significant historical importance. Soon a girl is possessed and invites some friends to spend the night at the museum. The evil genie is once again released to begin a brutal killing spree and it is up to the archaeologist to translate the engravings of the lamp and stop the ancient curse.
     Made 10 years before the Wishmaster series began, this is an original 80's supernatural horror teen slasher that came out at the time when every killer wore a mask. WIth its abundant gory body count and crazy special effects, this is must for all slasher and supernatural fans.
89 minutes

STANDARD FORMAT

English audio sound with non-removable Japanese subtitles

DVD is NTSC format, Region 0 (region free) playable world wide
Also known as: T
he Outing
Directed by Tom Daley
Starring:
Deborah Winters, James Huston, Andra St.Ivanyi, Scott Bankston, Red Mitchell, Andre Chimene, Damon Merrill, and Barry Coffing