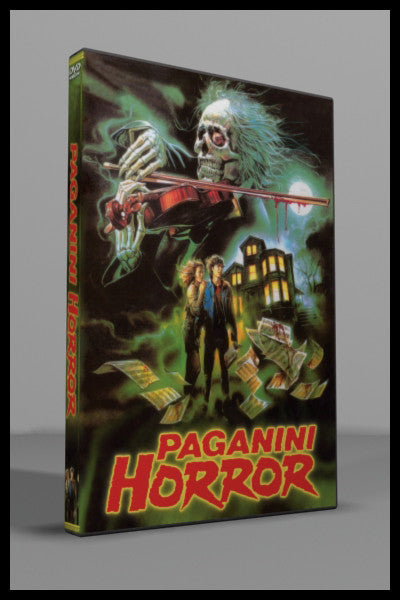 Paganini Horror (1989)
     When the producer of a mostly female '80s rock band keeps nagging about the lack of originality in their newest song, the drummer purchases a sealed score written by the great Paganini from a mysterious old man (Halloween's Donald Pleasence).  The band create a new single based on the document and decide to make a video for it in Paganini's old mansion, where legend tells of the famous violin virtuoso once signing a pact with the devil and killing his wife.

     It seems that the ghost of Paganini either hates the new song or is just angry for everyone being in his old mansion.  Armed with his gold switchblade violin and satanic infernal powers, Paganini appears throughout the mansion murdering the trespassers in various creative ways.

     Luigi Cozzi gets Daria Nicolodi to co-write the script as well as star in his last feature in which tries to create a spooky atmosphere with rich, glowing colours and nasty gore effects. The '80s music and costumes are rivaled only by the dialogue in terms of entertainment value and the total package makes a fun classic of Italian horror for all the wrong reasons.
81 minutes

WIDESCREEN VERSION (non-anamorphic)

English audio soundtrack

DVD is NTSC format, Region 0 (region free) playable world wide
Also known as:
Il violino che uccide
Directed by Luigi Cozzi
Starring:
Daria Nicolodi, Donold Pleasence, Jasmine Maimone, Pascal Persiano, Maria Cristina Mastrangeli, Michel Klippstein and Pietro Genuardi