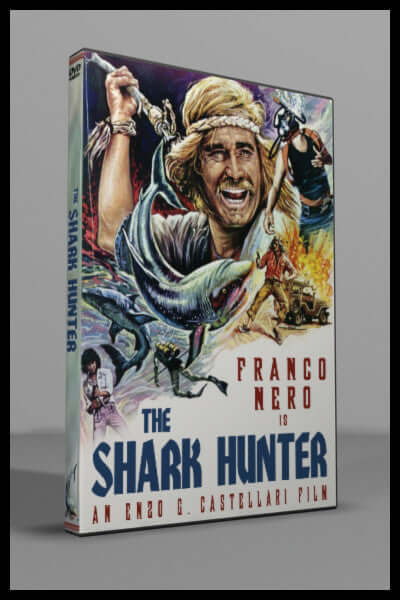 Shark Hunter, The (1979)
     When a plane carrying a million dollars in cash crashes, only one person lives through it and knows where it went down.  The survivor (Franco Nero) ends up staying and making a living as a shark hunter on an island off the Mexican coast, dreaming of one day recovering the treasure that lies at the bottom of the sea.

     There becomes an urgency to recover the loot when corrupt local police officers, thugs, and a CIA agent on "holiday" all learn about the treasure as well. A frenzied battle erupts in the shark infested waters with everyone involved and a fortune at stake.

     Enzo G. Castellari (Inglorious Bastards) includes himself in the cast and again directs his pal Franco Nero in this suspense action spectacle, beautifully filmed on exotic location.  Although not exactly a legit entry in the "Sharksploitation" sub genre, the film features some of the greatest shark attack sequences ever as well as a phenomenal score by the De Angelis brothers.
95 minutes

STANDARD FORMAT

English audio soundtrack

DVD is NTSC format, Region 0 (region free) playable world wide
Also known as:
 Il cacciatore di squali, 
Guardians of the Deep
Directed by Enzo G. Castellari
Starring:
Franco Nero, Werner Pochath, Jorge Luke, Michael Forest, Patricia Rivera, Mirta Miller, Eduardo Fajardo and Enzo G. Castellari