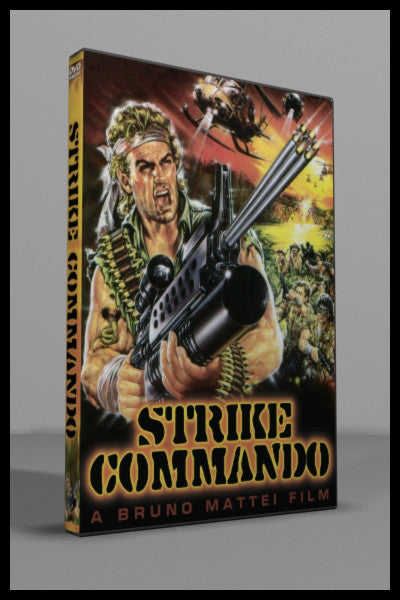 Strike Commando (1987)
     The Strike Commando is no ordinary soldier....he's the best, most highly trained war machine in Vietnam and nothing can stop him.  On a mission that gets him caught behind enemy lines, the Strike Commando (Reb Brown from Yor: The Hunter of the Future) discovers a deadly platoon led by a massive Russian sadist.
     He escapes the ravages of the brutal torture-happy cretin, but the commando's job is not yet finished.  He is ordered back to the jungle on a suicide mission, the objective being to document the Russian war involvement and liberate the Vietnamese who saved his life.
     From the atrocious P.O.W. camp to a ferocious battle-to-the-death, the heroic Strike Commando will stop at nothing to crush the betrayers of freedom.
     Italian director Bruno Mattei (Hell of the Living Dead) manages to combine hilarious bad acting, side splittingly awful dialogue, inappropriate incidental music with a plethora of jaw-droppingly silly scenes to make a great cheese stew parody of Rambo: First Blood Part 2.
92 minutes

STANDARD FORMAT

English audio sound with non-removable Japanese subtitles

DVD is NTSC format, Region 0 (region free) playable world wide
Also known as:
Kobra commando, Cobra Force
Directed by Bruno Mattei (as Vincent Dawn)
Starring:
Reb Brown, Christopher Connelly, Alex Vitale, Luciano Pigozzi, Louise Kamsteeg, Edison Navarro, Karen Lopez, Juliet D. Lei, and Rene Abadeza