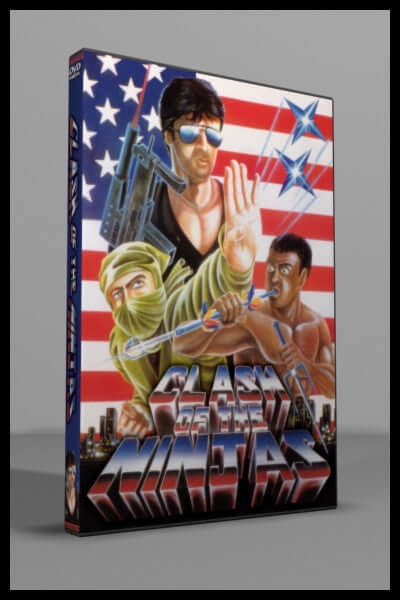 Clash of the Ninjas (1986)
     A ruthless ninja is heading up an evil organization that's main business is the illegal selling of human organs. Trouble arises on the organ farm when the kidnapped human guinea pigs begin to riot when they realize their fate upon arrival. The truth is beginning to unravel, but the organization will do anything to protect its secret activities. All who rebel are killed with no mercy.
     An agent of justice who was taught by the same master as the evil ninja leader is assigned to crack the illegal organization. His one-man journey is filled with danger at every turn as he battles against incredible odds to take revenge. In a thrilling climax, the stage is set for a epic showdown when the two arch rival ninjas finally get to go at it in an ultimate death clash of ninja mayhem.
     Godfrey Ho delivers another Z-grade martial arts masterpiece in this highly sought-after exercise in ninja insanity. Filled with a surprising amount of blood and gore, this gem also has contains all the hilarious outfits, dialogue, dubbing and music that you would expect from a Ho production.
91 minutes

WIDESCREEN VERSION (non-anamorphic)

English audio sound with non-removable Japanese subtitles

DVD is NTSC format, Region 0 (region free) playable world wide
Also known as: Clash Commando
Starring: 
Paulo Tocha, Luois Roth, Eric Neff, Bernie Junker, Joe Redner, Klaus Mutter, Eddie Chan, and Max Kwan