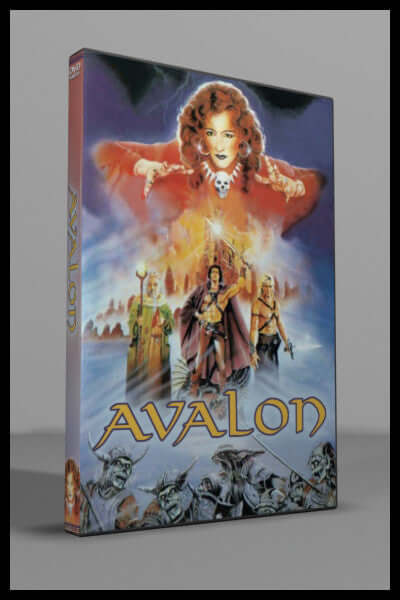 Avalon (1988)
     The adventure begins when a muscle bound hero rescues a woman from some over-zealous Druids. He offers to help track down her lover who has been nabbed and enslaved by the evil hard-bodied Morgana. They set of on their quest, accompanied by a cowardly thief who has decided to tag along.
     The trio travel to an isle where the thief takes a golden apple from a mysterious tree. He soon sinks into a mire doomed by the weight of the golden apples, but is rescued by a swamp creature which leaves him with a riddle, "He who kills my reflection will set me free."
     Reaching the villainess' compound, they battle through zombies and present themselves as warriors for the competition of armed combat. The hacking and whacking ensues, but this will not be the last battle before the journey ends, as a mighty dragon still must be slain.
     Michael J. Murphy provides his director's technical skills to this sword and sorcery tale filled with female flesh, attractive witches, Merlin as a sex god, and zombie warriors. Also making an appearance are tinsel, foil, cardboard, polystyrene, plastic bags and plastic jewelry.
80 minutes

STANDARD FORMAT

English audio sound with non-removable Japanese subtitles

DVD is NTSC format, Region 0 (region free) playable world wide
Directed by Michael J. Murphy
Starring: Patrick Olliver, Stephen Harris, Debbi Stevens, Rob Bartlett, Abigail Blackmore, Craig Hiller, June Bunday, and Phil Lyndon