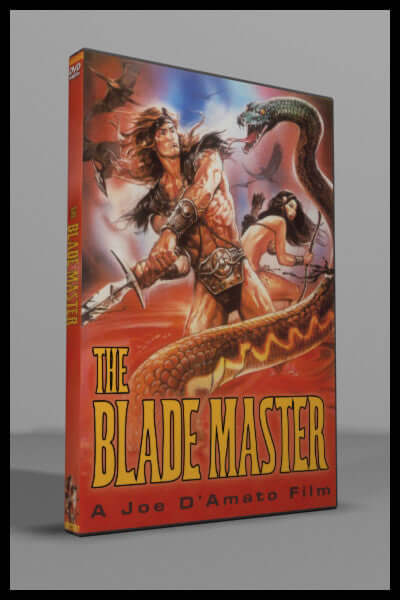 Blade Master, The (1984)
     A wise old man has developed the Geometric Nucleus - a device which can cause havoc if it falls into the wrong hands. He reveals the terrible secret of his invention to his daughter Mila and pleads with her to flee the castle in search of help before it is too late.
     Only Ator can save them, who has been continuing his research in a cave with Thong, an oriental expert in martial arts. Mila escapes the castle and reaches Ator's cave despite ambushes and attacks by the evil Zor. The group plan their return to the castle but find danger everywhere as Zor uses shadowmen, samurai, cavemen and every possible trick to overpower them.
     Joe D'Amato (Endgame) returns to direct Miles O'Keeffe (Double Target, Lone Runner) as Ator in the sequel to Ator, The Fighting Eagle. According to D'Amato, the film was shot in two weeks and heavily improvised so it could be finished in time to ride the coat tails of Conan the Destroyer.
92 minutes

STANDARD FORMAT

English audio soundtrack

DVD is NTSC format, Region 0 (region free) playable world wide
Also known as:

 
Ator 2 - L'invincibile Orion, Cave Dwellers
Directed by Joe D'Amato
Starring: Miles O'Keefe, Lisa Foster, David Brandon, Charles Borromel, Kiro Wehara, and Robert Black