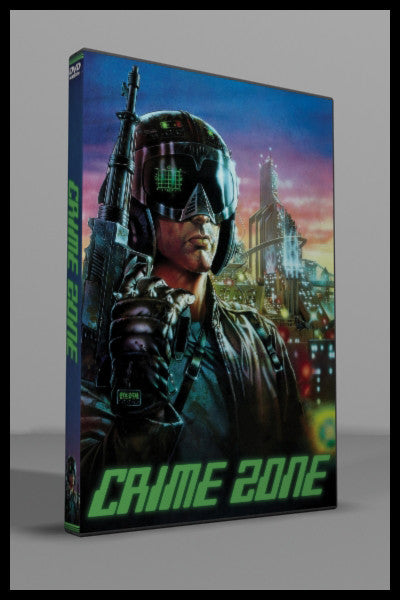 Crime Zone (1988)
     Crime is eliminated in the post-nuclear fascist world of tomorrow. Citizens are constantly watched by cameras, the ultra-rich extend their lives by hibernation, and caged beauties dispense state-sanctioned sex. Trapped in this police state that divides society, two young lovers seem doomed to live as "subgrades" unless they can somehow escape the Crime Zone.
     A mysterious stranger offers the desperate couple a way out if they can steal a computer chip vital to the government. Soon they are being hunted like animals, caught in a web of murder which leads them deep into the heart of the most shocking and violent conspiracy ever imagined.
     Luis Llosa (Anaconda, Sniper) energetically directs this gritty sci-fi romp to a rousing synthesizer score. Sherilyn Fenn (Twin Peaks) and Peter Nelson (V) star along with David Carradine who also executive produced the film with Roger Corman.
96 minutes

STANDARD FORMAT

English audio soundtrack

DVD is NTSC format, Region 0 (region free) playable world wide
Directed by Luis Llosa
Starring:
David Carradine, Peter Nelson, Sherilyn Fenn, Michael Shaner, Orlando Sacha, and Don Manor