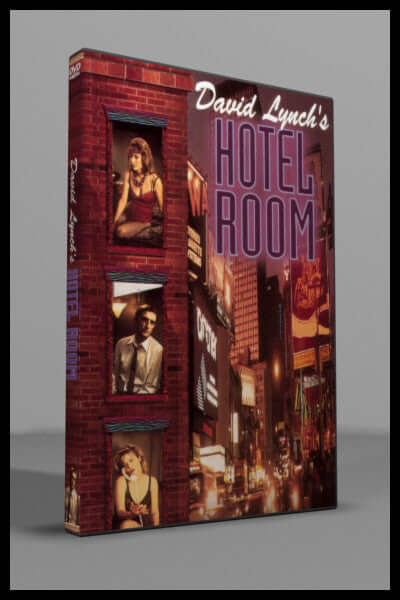 David Lynch's Hotel Room (1993)
     In this rare collection, David Lynch presents a trilogy of stories that take place in the curiously timeless space of room 603 at the Railroad Hotel.
"Tricks" September 1969
     The 1st episode is directed by David Lynch and stars Harry Dean Stanton and Glenne Headly as two cantankerous old friends who share room 603 with a hooker-turned-cheerleader and find themselves haunted by a mysterious and dangerous past.
"Getting Rid of Robert" June 1992
     The 2nd episode is directed by James Signorelli and has three uptown women gather in the hotel room to lament about men, relationships and sex with unexpectedly violent results.
"Blackout" April 1936
     David Lynch book ends the trilogy by directing the last episode with the amazing Crispin Glover as a simple, mid-western husband who's brought his mentally disoriented wife to New York for treatment. Stranded in their room after a storm blacks out the city, the young couple embark on a profoundly unsettling odyssey of personal discovery.
100 minutes

STANDARD FORMAT

English audio soundtrack

DVD is NTSC format, Region 0 (region free) playable world wide
Directed by David Lynch and James Signorelli
Starring:
Harry Dean Stanton, Glenne Headly, Freddie Jones, Griffin Dunne, Deborah Unger, Mariska Hargitay, Chelsea Field, Crispin Glover and Alicia Witt