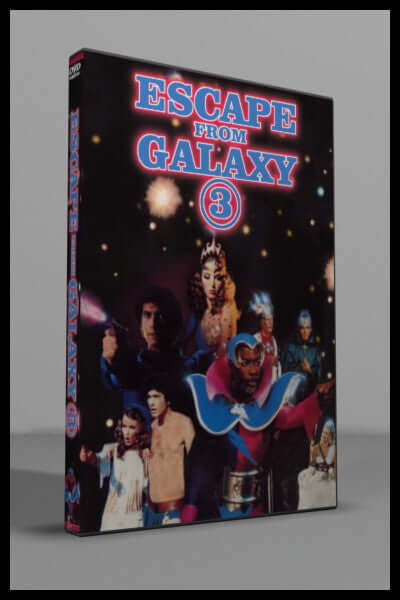 Escape from Galaxy 3 (1981)
     Belle and Lithan are two immortals from a distant star whose world is threatened by the evil Oraclon. On the verge of being blow into smithereens, the heroic couple escapes from their evil nemesis and hopes to figure out a way to destroy him before the power mad villain succeeds in ruling the entire universe.
     When the two find themselves stranded on a primitive planet far removed from anything they have ever known, they discover the physical pleasures the body is capable and indulge in them nearly every chance they get. Will they get sex off the brain long enough to figure out why they arrived on the planet to begin with?
     This is a truly insane example of Italian exploitation film making that combines a science fiction adventure for the kids with erotic bare flesh for adults. With its hilarious dialogue, funkadelic costumes, ridiculous special effects and disco score, this film will keep you laughing over multiple viewings.
87 minutes

STANDARD FORMAT

English audio sound with non-removable Japanese subtitles

DVD is NTSC format, Region 0 (region free) playable world wide
Also known as:
Giochi erotici nella terza galassia, Star Crash II
Directed by Bitto Albertini (as Ben Norman)
Starring:
Sherry Buchanan, Fausto Di Bella, Don Powell, Chris Avram, Alex Macedon, Margaret Rose Keil and Ottaviano Dell'Acqua