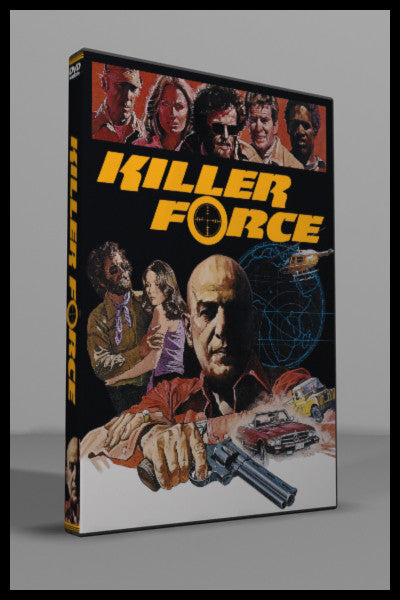 Killer Force (1976)
     The chief security officer of an international diamond syndicate is sent to a major depository in South Africa to shake things up and tighten security. He fears that a diamond theft is about to take place and one of his deputies is tasked to infiltrate a gang of former mercenaries and professional thieves that are plotting to rip off the depository.
     When the team of bandits show up to raid the vaults, the deputy must decide between his greed and the wrath of his notorious employer. The plan is finally set in motion, but little do the smugglers know, the chief of security isn't far off, watching and waiting. Now he plans his brutal revenge in a last-ditch pursuit across the desert.
     This suspenseful action-adventure is told through the "bad guy" perspective and features a great cast including Telly Savalas, Peter Fonda, O.J. Simpson, and Christopher Lee.
101 minutes

STANDARD FORMAT

English audio soundtrack

DVD is NTSC format, Region 0 (region free) playable world wide
Also known as: The Diamond Mercenaries, Killer Commando
Directed by Val Guest
Starring: Telly Savalas, Peter Fonda, Hugh O'Brian, Christopher Lee, O.J. Simpson, Maud Adams, Ian Yule, and Michael Mayer