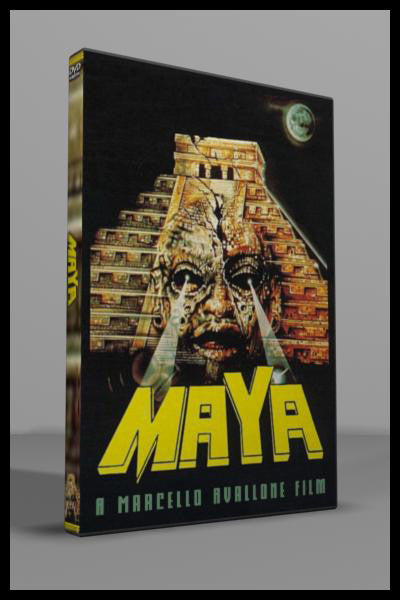 Maya (1989)
     A professor is murdered while undertaking a study of an ancient Mayan pyramid. Upon hearing the news, his daughter travels to a nearby Venezuelan town to get answers and meets up with an old friend of the professor who attempts to help her solve the mystery.
     A Mayan curse has been release with the resurgence of the evil Mayan king Ze Bul Bai. He has conquered death and wants revenge. Violent deaths come to anyone unfortunate enough to encounter the curse, be them "good" or "bad".
     Marcello Avallone directs this highly innovative film with stylish atmosphere and tension that summons menace in quiet images. He uses sharp and shocking violence throughout the film, although brutal and bloody, it is done in short bursts that don't detract from the story.
98 minutes

STANDARD FORMAT

English audio sound with non-removable Japanese subtitles

DVD is NTSC format, Region 0 (region free) playable world wide
Directed by 

Marcello Avallone
Starring:
Peter Phelps, Mariella Valentini Erich Wildpret, Cyrus Elias, Mariangelica Ayala, Mirella D'Angelo, and Antonella Fassari