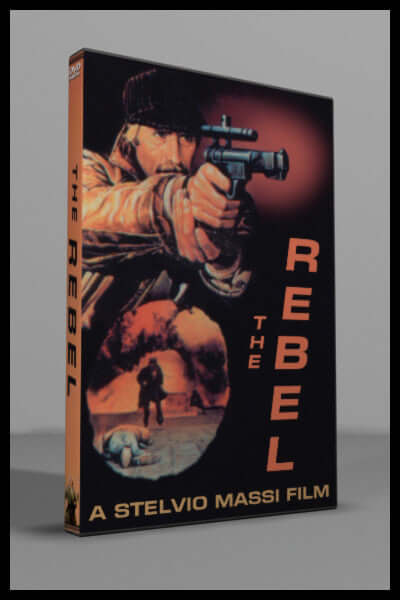 Rebel, The (1980)
     A retired cop is visited by his old partner who convinces him to help out as a bodyguard for established clientele. He joins his friend on a job of protecting a visiting German banker, but while touring a glass making facility, the businessman is assassinated and his partner is mortally wounded.
     Vowing to avenge his friend, the retired cop goes to great lengths to learn the truth behind the assassinations of the wealthy entrepreneurs. His journey takes him to Berlin where he goes undercover as a hitman and meets a beautiful woman who initiates him into the secret society of international killers. When his cover is blown, he himself becomes a target of the powerful criminal organization.
     Stelvio Massi (Highway Racer) teams up with Maurizio Merli again to direct one of the last great movies to emerge from the Eurocrime genre. Fueled by a groovy jazz/funk synthesizer score by Stelvio Cipriani and filled with car chases, fighting and shooting, the film also has its unique flavour of showing the isolated situation and dark atmosphere of Iron Wall Berlin in the seventies.
104 minutes

WIDESCREEN VERSION (non-anamorphic)

English audio sound with non-removable Japanese subtitles

DVD is NTSC format, Region 0 (region free) playable world wide
Also known as:
Poliziotto solitudine e rabbia
Directed by Stelvio Massi
Starring:
Maurizio Merli, Jutta Speidel, Arthur Brauss, Francisco Rabal, Jochen Schroder, Jako Benz, Max Giese and Buddy Elias