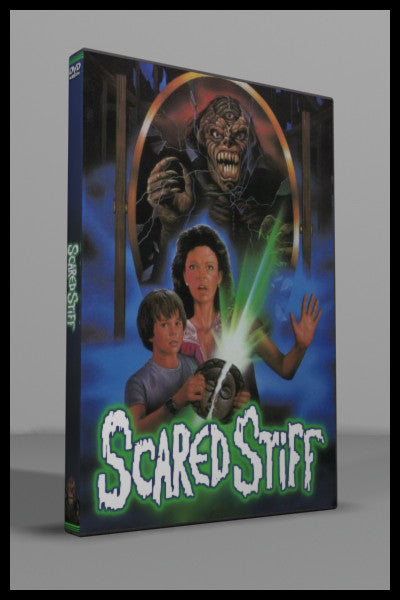 Scared Stiff (1987)
     This ghostly revenge tale starts in 1857, when a cruel Southern plantation owner is cursed by voodoo-worshiping slaves and turned into a monster who locks his wife and children in a trunk.
     Back to modern times, a psychiatrist and his ex-patient rock-star girlfriend move into the haunted mansion and find an old diary, a broken amulet and some desiccated corpses, whereupon the curse is passed on. The longer the psychiatrist stays in the mansion, the more possessed he becomes. Soon his girlfriend must battle him, the ghost of the original villain, and phantoms of her own past.
     This obscure film entertains by riding a tension between subtle ghost story aspects and eighties style gore effects that are yanked in to up the shock factor. Co-writer Mark Frost went on to create Twin Peaks with David Lynch.
84 minutes

WIDESCREEN VERSION (non-anamorphic)

English audio sound with non-removable Japanese subtitles

DVD is NTSC format, Region 0 (region free) playable world wide
Directed by 

Richard Friedman
Starring:
Andrew Stevens, Mary Page Keller, David Ramsey, Josh Segal, BillHindman, Jackie Davis, Nicole Fortier, Brian Smith, and Tony Shepherd