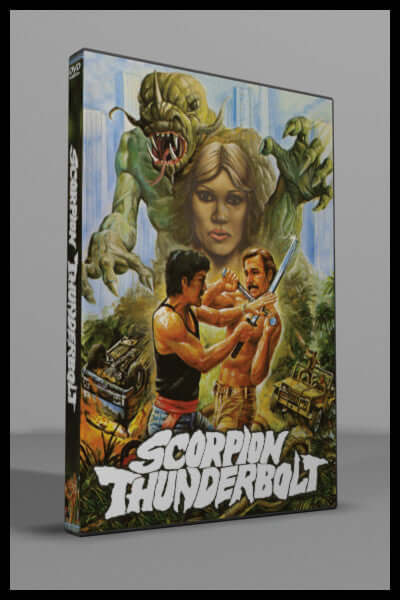 Scorpion Thunderbolt (1988)
     It is present day Hong Kong and a beautiful young journalist is desperately trying to hide the dreadful secret that she is really a snake monster that embarks on a brutal killing sprees. Born with this curse and set out into the city to murder by an evil, clawed, cackling witch, the reporter is transformed against her will by a sinister blind man with his mysterious flute playing.
     Enter Richard Harrison, seemingly playing himself, who possesses a magic ring which holds the key to the dissolution of the witch's power. He must fend off several of the witch's hooker- assassins who try to get the ring by any means possible. He must find and destroy the evil witch who lives in a red castle in order to stop the murderous wrath of the snake creature.
     Easily one of the most insane pieces of film making ever made, this Godfrey Ho mash-up has to be seen to believe it even exists! At a constant swift pace this gut-busting schlock howler is packed with graphic gore, sleazy sex, kung fu combat, slithery snakes, a rubber beast creature, and a fiery climactic battle featuring John Williams' Raiders of the Lost ark score. The end result: a craptastic delight that is bizarrely enjoyable.
87 minutes

STANDARD FORMAT

English audio sound with non-removable Japanese subtitles

DVD is NTSC format, Region 0 (region free) playable world wide
Also known as: 
Snake
Written and Directed by 

Godfrey Ho
Starring:
Richard Harrison, Juliet Chan, Shou-ping Tsui, Nancy Lim, Cynthis Ku, Maura Pong, and Samson Kim