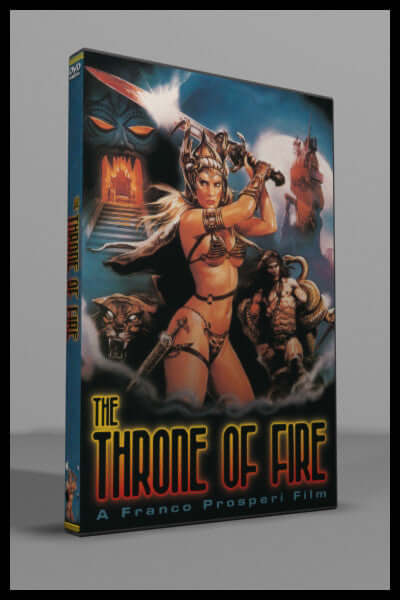 Throne of Fire, The (1983)
     Legend tells that the great Odin had fashioned a magnificent throne that awaits the rightful lord of the people. To earn that honor, a man must marry the Princess of the Realm. For all who try and unjustly sit upon the throne, they immediately burst into flame.
     A creature fathered by the Devil's messenger disguises himself as a man and sets off to possess the throne so he can rule the world. The princess, a warrior maiden of statuesque beauty, refuses the necessary marriage, and to her aid comes the hero Siegfried. Together they must face the blood- curdling challenges of a fiend capable of ultimate cruelty.
     Franco Proseperi (Meet Him and Die) directs this thunderous spectacle that lingers on carnage to beat of a bizarro synth score. Starring the forever bikini clad Sabrina Siani (The Sword of the Barbarians) and Harrison Muller Jr. (The Final Executioner), it also features lots of head bashing and one of the best goopy jelly-child creatures ever presented in Eurotrash Barbarism.
91 minutes

STANDARD FORMAT

English audio soundtrack

DVD is NTSC format, Region 0 (region free) playable world wide
Also known as:

 
Il trono di fuoco
Directed by Franco Prosperi
Starring: Sabrina Siani, Pietro Torrisi, Harrison Muller Jr., Beni Cardoso, Pietro Ceccarelli, Dan Collins, and Stefano Abbati