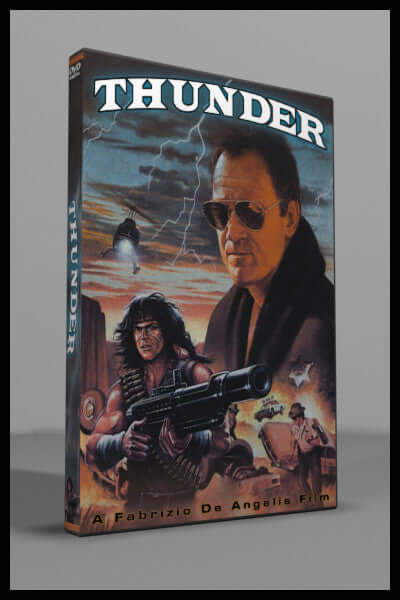 Thunder (1983)
      After a long absence, a young Indian named Thunder returns to his native village to marry his childhood sweetheart.  Upon his arrival he he finds things have drastically changed and his tribe's cemetery has been desecrated by the local authorities who are permitting construction on the site.

     When Thunder lodges a complaint about the construction plans, he is savagely beaten thrown out of town on an unjust charge.

     All hell breaks loose as Thunder breaks out and emerges as a one-man army with revenge as his only purpose.  Using guerrilla warfare, he cuts a bloody path through the town with bazookas, a bulldozer and all the animal skills of a jungle warrior.

     Fabrizio De Angelis (producer of Zombi Holocaust, New York Ripper) directs this Rambo inspired action fest starring Mark Gregory (1990: Bronx Warriors) as Thunder and Bo Svenson (The Inglorious Bastards) as the evil sheriff.
91 minutes

STANDARD FORMAT

English audio sound with non-removable Japanese subtitles

DVD is NTSC format, Region 0 (region free) playable world wide
Also known as: Thunder Warrior
Directed by Fabrizio De Angelis
Starring:
Mark Gregory, Bo Svenson, Raimund Harmstorf, Valeria Ross, Giovanni Vettorazzo, Paolo Malco, Bruno Corazzari and Antonio Sabato