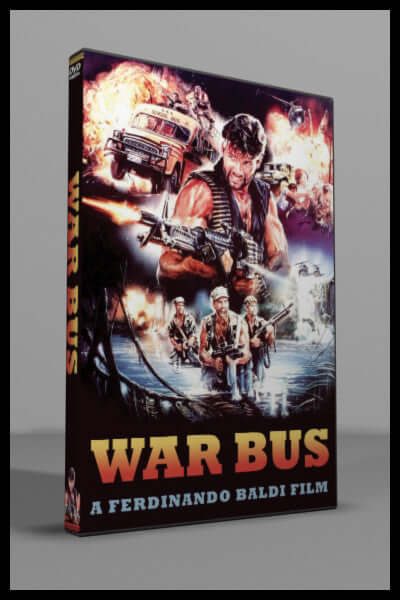 War Bus (1985)
     It is in the heat of the Vietnam war and the Viet Cong launch a vicious attack on a Christian mission. A group of soldiers organize the missionaries to get in a school bus and together they flee the base into the jungle.

     The bus is stopped and commandeered by three battle hardened American Special Forces soldiers on a mission and in desperate need of transport. The mission pushes on as the bus battles its way through the jungle, desperately fighting its way to safety.

     A solid action filled exploitation film by Ferdinando Baldi (Treasure of the Four Crowns) that boasts some excellent battle scenes and a plethora of big and beautiful pyrotechnic displays throughout.
96 minutes

STANDARD FORMAT

English audio sound with non-removable Japanese subtitles

DVD is NTSC format, Region 0 (region free) playable world wide
Also known as: Warbus
Directed by Ferdinando Baldi
Starring:
Daniel Stephen, Romano Kristoff, Urs Althaus, Gwendolyn Hung, Ernie Zarate, Don Gordon Bell, Zeny R. Williams and Benito Stefanelli