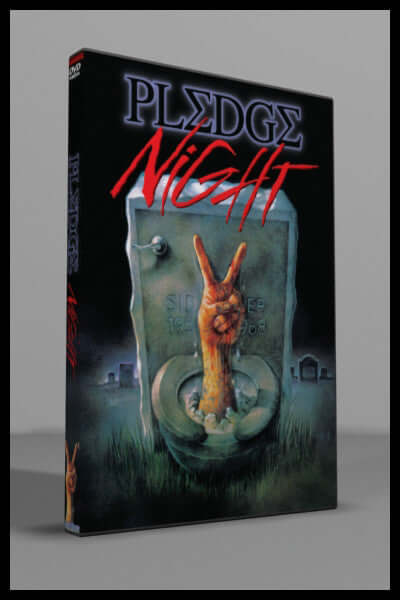 Pledge Night (1988)
     1968, a young hippie frat pledge named Sid was killed in a hazing mishap, burned to death in a tub of acid. Two decades later, his demonic corpse returns to the frat house during "Hell Week" when new recruits are taking part in more hazing rituals.
     As Acid Sid goes on a rampage, the bodies pile up and the new pledges are left to determine if the grisly murders are a terrible reality, or just a mean-spirited prank intended to further debase them. One loyal frat brother sets out to stop Acid Sid, but how do you kill a graduate monster that is already dead?
     This entertaining '80s slasher starts with one sick, gross and perverted pledge-test after another before the blood and gore killing spree goes in to full swing. Features a soundtrack by Anthrax, with lead singer Joey Belladonna also showing up in the film as the young Sid.
82 minutes

STANDARD FORMAT

English audio soundtrack

DVD is NTSC format, Region 0 (region free) playable world wide
Also known as: A Hazing in Hell
Directed by Paul Ziller
Starring:
Todd Eastman, Dennis Sullivan, Craig Derrick, David Neal Evans, Robert Lentini, and James Davies