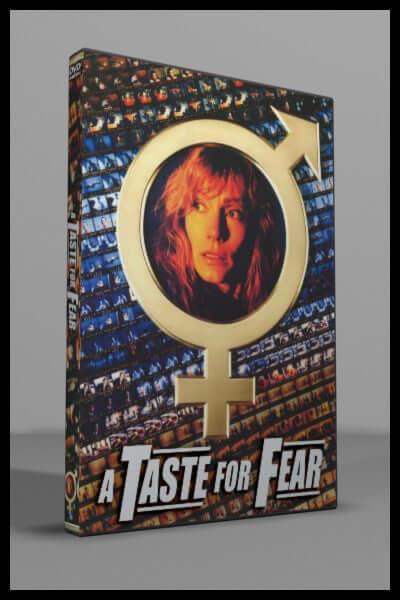 A Taste For Fear (1988)
     A female fashion photographer who specializes in trendy soft core imagery is introduced to a muscular girl model by her ex-boyfriend who makes bondage films. She asks the bodybuilder to model in her next shoot after they have a lesbian encounter, but she soon turns up bound, gagged and dead after accepting a job at another shoot.
     A tough cop focuses his suspicions on the photographer's old flame, the bondage film maker. It isn't long before another model is murdered, but this time a video disks shows up depicting the crimes. The cop thinks he now has the evidence to nab his suspect, except the killer in the video appears to be a red-headed woman.
     This truly bizarre erotic giallo thriller that takes place in an eighties version of the future where they drive slick electric cars and the cops use ray-guns. Even with it's over-the-top eighties vibe, director Piccio Raffanini does succeed in pulling off some very slick and stylish photography creating a surreal world that is undeniably interesting. Stars Virginia Hey (The Road Warrior) as the photographer and includes a cameo role from Kid Creole.
92 minutes

STANDARD FORMAT

English audio sound with non-removable Japanese subtitles

DVD is NTSC format, Region 0 (region free) playable world wide
Also known as: 
Pathos - Segreta inquietudine, 
Obsession: A Taste for Fear
Directed by Piccio Raffanini
Starring: 
Virginia Hey, Gerard Darmon, Gioia Scola, Dario Parisini, Carin McDonald, Teagan Clive, Eva Grimaldi, and Kid Creole