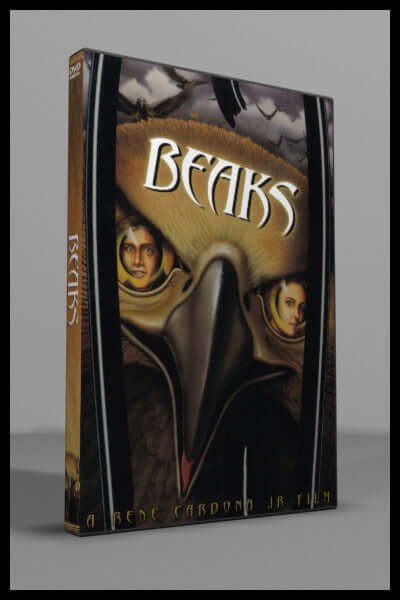 Beaks (1987)
     A television reporter goes to cover a story of a farmer that was attacked by his chickens and find out that it might not just be an isolated incident. The reporter and her cameraman decide to travel to Spain where they soon discover the survivors of a town that was wiped out by the birds thirty years ago.
     Meanwhile, attacks are continuing all over the planet and a child's birthday party ends in tragedy when doves devour a poultry farmer and his wife. The reporter soon comes to the conclusion that the birds are organizing themselves against the ecological ravages of man. Time is running out to get them to stop though as thousands of birds launch an attack against a train that reporter is traveling on.
     Rene Cardona Jr., Mexico's master of exploitation, directs this low-budget homage to Alfred Hitchcock's "The Birds" and fills it with all the necessary grindhouse details including the birds making mincemeat out of people's faces.
100 minutes

STANDARD FORMAT

English audio sound with non-removable Japanese subtitles

DVD is NTSC format, Region 0 (region free) playable world wide
Also known as: 
El ataque de los pájaros, Birds of Prey, Evil Birds
Directed by René Cardona Jr.
Starring: Christopher Atkins, Michelle Johnson, Sonia Infante, Salvador Pineda, Gabriele Tinti, Aldo Sambrell, Nene Morales, and Manuel Pereyro