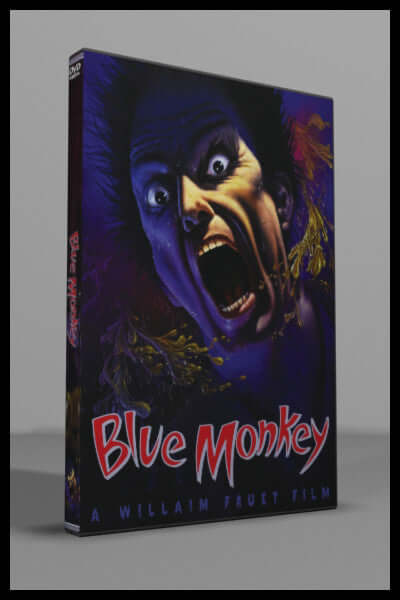 Blue Monkey (1987)
     While working in a greenhouse, a man receives an insect bite after touching an exotic plant. He immediately falls ill and is taken to an emergency room where the doctors diagnose him as suffering from an unknown bacteria. It isn't long before a a strange worm-like parasite emerges from his mouth.
     The doctors and a police detective manage to contain the parasite, but within hours, it mutates into a grotesque insect of gigantic proportions. Now roaming the corridors looking for human bones to munch on, the creature is virtually indestructible. When it produces an egg-laying female, the only solution seems to be to blow up the hospital and everyone inside.
     William Fruet directs this atmospheric fifties-style creature feature that makes sure it pack a punch with its crazy special effects and gore. The Canadian production stars Steve Railsback (Lifeforce) as the detective, SCTV's Joe Flaherty and Sarah Polley in one of her first film roles. 
97 minutes

STANDARD FORMAT

English audio soundtrack

DVD is NTSC format, Region 0 (region free) playable world wide
Directed by William Fruet
Starring: Steve Railsback, Gwynyth Walsh, John Vernon, Joe Flaherty, Robin Duke, Susan Anspach, Don Lake, and Ivan E. Roth