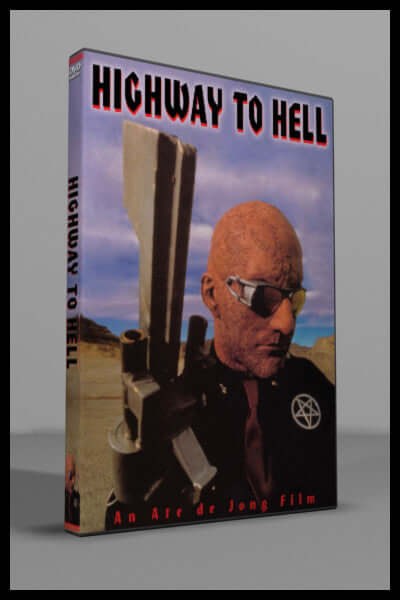 Highway to Hell (1991)
     A young couple have plans of eloping and heading to Las Vegas for a secret wedding.  To save some time they decide to follow a remote desert dirt road while following the advice of the the local gas station owner.

     When the groom-to-be ends up falling asleep at the wheel, he is quickly pulled over by the fiendish Hell Cop who arrests his fiance and takes her down to hell.  With only 24 hours left before the Devil has her soul for eternity, our hero must race into the unexpected world of the living dead, deal with its inhabitants, and win back his girl.

     This wildly eccentric horror-comedy-adventure has an equal bizarre cast and features Richard Farnsworth (A Straight Story), Gilbert Gottfried as Hitler, and a young Ben Stiller along with the rest of his family.
94 minutes

STANDARD FORMAT

English audio soundtrack

DVD is NTSC format, Region 0 (region free) playable world wide
Directed by Ate de Jong
Starring:
Patrick Bergin, Adam Stoke, Chad Lowe, Kristy Swanson, Pamela Gidley, Jarrett Lennon, C.J. Graham, and Richard Farnsworth