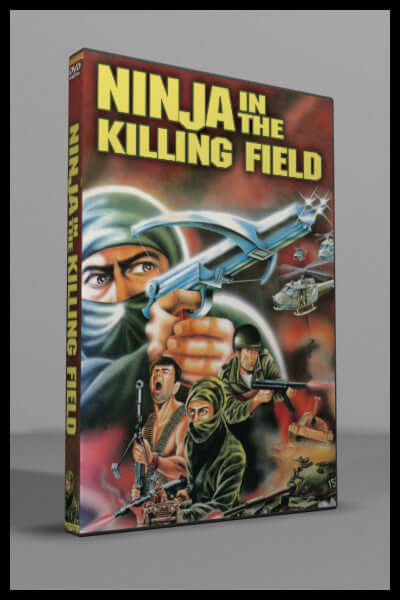 Ninja in the Killing Fields (1984)
    Driven by his insatiable greediness for wealth and power, a fanatic leader of a criminal ninja clan wants to spread out their drug trafficking business all over the whole world. The first target is Thailand and through bloody terrorist attacks, the murderous ninja forces strike strategically important spots.
     The government seems powerless against the brutal activities of the ninjas and requests the help of the powerful task force of the American drug fighting organization. The US authorities send their best man on a high-explosive mission to eliminate the unscrupulous killer ninja clan and destroy their drug ring.
     This classic Godfrey Ho (credited as York Lam) ninja epic seems to actually be one of the few movies he has made that uses mostly original footage. From the coke-bottle glasses wearing former ninja on the run to the ninja transforming into a toad, this film really is a zinger.
92 minutes

WIDESCREEN VERSION (non-anamorphic)

English audio sound with non-removable Japanese subtitles

DVD is NTSC format, Region 0 (region free) playable world wide
Also known as: Killer Ninjas
Directed by 

Godfrey Ho (as York Lam)
Starring: 
Stuart Smith, Louis Roth, Jane Kingsly, Henry Steele, Patricia Greenfield, and Joe Nelson