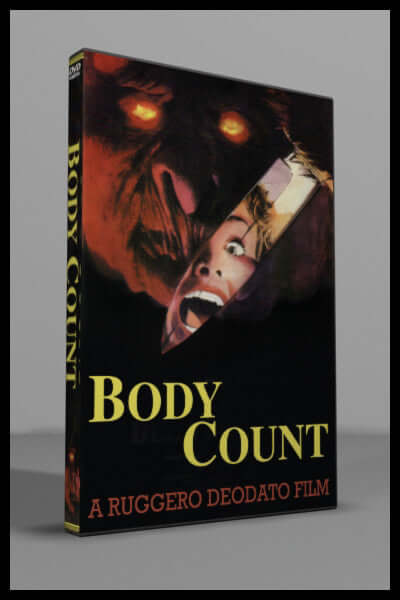 Body Count (1987)
     Ruggero Deodato, mostly known for his gore-fest cannibal films like Cannibal Holocaust, tries his hand at directing a standard slasher movie.

     The story has a bodybuilder, junk-food addict, wild blonde nymph and their friends being stalked by a figure that lurks in the shadows. As they explore the Colorado wilderness, their numbers dwindle.

     Feautring Last House on the Left's David Hess, cameo by Ivan Rassimov, and a great pulsing soundtrack by Claudio Simonetti (Goblin).
83 minutes

STANDARD FORMAT

English audio soundtrack

DVD is NTSC format, Region 0 (region free) playable world wide
Also known as: Camping del terrore
Directed by 

Ruggero Deodato
Starring: 
Bruce Penhall, Mimsy Farmer, David Hess, Luisa Maneri, Nicola Farron, Andrew J. Lederer, Stefano Madia, John Steiner, Nancy Brilli, Cynthia Thompson, Valentina Forte, Ivan Rassimov, Elena Pompei, Charles Napier and Sven Kruger