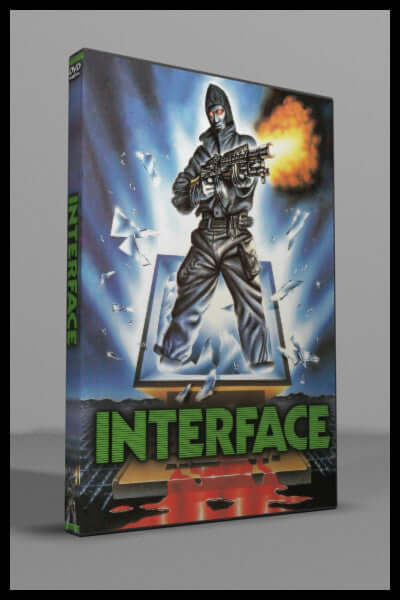 Interface (1985)
     Beneath the serene campus of a university there are cavernous underground tunnels where a game of peril is being played. The object of the game is to eliminate the criminal element of society. It was meant to be an exercise in computer science, but now the fantasy has become reality and the objective has become an obsession.
     A computer science professor suspects the untimely death of his prize student was no accident. Joined by the victim's widow, the two begin their investigation which leads to the discovery of a highly sophisticated computer game. The game unlocks the door to a world of terrorists obsessed with carrying out their master's will. It is game they must win since their lives depend on it.
     This bizarre Atari age slasher has all has all the charm of naive 80's sci-fi movies, with big, bold letters sending big, scary messages on big, green computer screens. The premise seems pretty silly, but it moves along fast enough to make for a nostalgic fun ride. Look for Lou Diamond Phillips playing a punk at the beginning in his first feature appearance.
88 minutes

STANDARD FORMAT

English audio soundtrack

DVD is NTSC format, Region 0 (region free) playable world wide
Directed by Andy Anderson
Starring: 
John S. Davies, Lauren Lane, Matthew Sacks, Michael Hendrix, Janet Six, and Arnie Strand