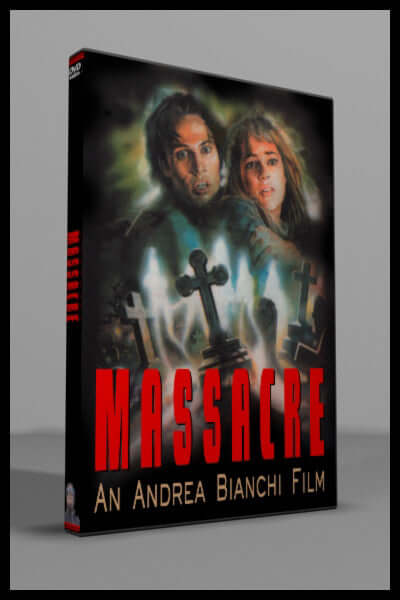 Massacre (1989)
     This fine Italian gore slasher flick is directed by Andrea Bianchi (Zombi 3) under supervision by maestro Lucio Fulci.

     The story unfold during the filming a zombie movie entitled Dirty Blood. The horror fantasy becomes horrifying reality when girls start being killed in grisly fashion by a perverted maniac.

     There is plenty of sleaze, misogynistic violence and the killings are mean spirited and gory as hell. Even before the opening credits a hitch-hiker is bloodily hacked to death with an axe. 
90 minutes

STANDARD FORMAT

Italian audio soundtrack with English subtitles.

DVD is NTSC format, Region 0 (region free) playable world wide
Also known as: Massacro, La morte della medium
Directed by 

Andrea Bianchi
Starring: 
Gino Concari, Patrizia Falcone, Silvia Conti, Pier Maria Cecchini, Danny Degli Espositi, Robert Egon, Paul Miller, Anna Maria Placido, Maurice Poli