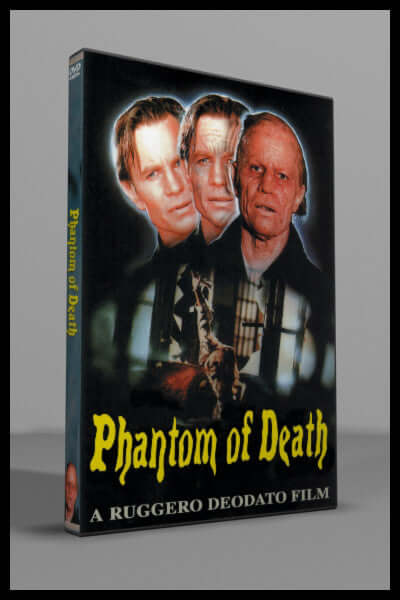 Phantom of Death (1988)
     A concert pianist is stricken with a rare genetic disorder which rapidly ages him. His hair falls out, his teeth rot, he coughs up blood and starts suffering from uncontrollable behavior problems that include psychotic and murderous episodes.

     The mad pianist ends up killing the ladies in his life, even his girlfriend that is pregnant with the child he doesn't want to be born. Can the Police Commissioner find out who is responsible for all the deaths?
     Ruggero Deodato (Cannibal Holocaust) directs this stylish horror-giallo filled with flashy sets, costumes and backdrops, and some pretty gory deaths.
90 minutes

WIDESCREEN VERSION (non-anamorphic)

English audio soundtrack

DVD is NTSC format, Region 0 (region free) playable world wide
Also known as: Un delitto poco comune, Off Balance
Directed by 

Ruggero Deodato
Starring: 
Michael York, Edwige Fenech, Donald Pleasence, Mapi Galan, Fabio Sartor, Renato Cortesi, Antonella Ponziani, Carola Stagnaro, Daniele Brado, Caterina Boratto, Reata Dal Pozzo, Gianni Franco