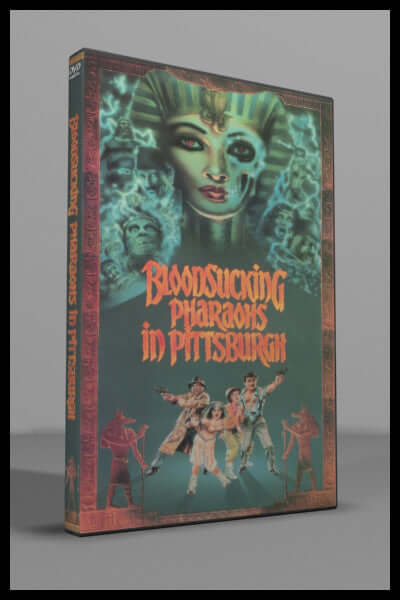 Bloodsucking Pharaohs in Pittsburgh (1991)
     A chainsaw-wielding killer is terrorizing Pittsburgh, removing select body parts from its victims.  The only clues from the grizzly crimes point to a bizarre Egyptian ritual for the dead. 

      Two deadbeat detectives track the killer to Egypt Town where they confront deadly ninjas, tasteless cooks, and a beautiful rollerskating waitress, while trying to stop a cannibalistic psychopath from turning Pittsburgh into blood soup.
     This cult classic is a much Naken Gun as it is Blood Feast which make for a hilarious cheese fest that delivers on many levels including some crazy gore by local FX master Tom Savini.
89 minutes

STANDARD FORMAT

English audio soundtrack

DVD is NTSC format, Region 0 (region free) playable world wide
Also known as: Picking Up the Pieces
Directed by 

Dean Tschetter and Alan Smithee
Starring: 
Jake Dengel, Joe Sharkey, Susann Fletcher, Beverly Penberthy, Veronica Hart, Shawn Elliott, Pat Logan and Don Brockett